Fall 82: The Bubonic Plague; Jay Dee's; The Brand E
---
A new spin-off band began at this time-summer/fall 1982. It was started by Kirt (Wallace) and Mike O'Brien (alias Dr. Cod.) It was called the BUBONIC PLAGUE, and before its demise two years later, would see action in St. John's and Toronto. The band included, at various times, Tony (Roscoe), Craig Squires (No), Justin (the Beat), Terry (Pasquali) as well a host of non-Slymers. In fact the band had no stable line up until early 84. All of these people appear on the cassette tape released in the following year. Drummers at this time included Peter Slade and Neil Pottle.
In the fall Peter (Stig) and Terry found themselves walking an often damp picket line. The strike at OZ and NTV dragged on and on Oct 6/82 it was decided that Da Slyme, Booze Bros., the Issue (Terry's Band) and the Bubonic Plague would play a benefit at the TSC Café. This show was not reviewed in The Herald, which was owned by the company at the center of the strike.
Da Slyme's next foray to the local stage came in November- the 10th. Mike Martin, who had managed the Browned Off for most of it's time became a "free Agent" so to speak. He persuaded the owners of yet another drinking establishment that Da Slyme would be a good draw. That establishment was the Brand E Saloon on Duckworth St. - a period western themed establishment complete with a mechanical bull and swinging doors on the second floor. The owners were persuaded and the gig arranged for Nov 10 /12 and 13. For reasons unknown these owners changed their minds and cancelled, possibly on the 8th. This had not happened before and revenge was vowed. A show was hastily arranged at another place for the 10th.
Roscoe was a frequent customer of a place called JD's lounge and was familiar to the management there. He obtained the new venue at very short notice, though still resulting in a blocked house for the Bubonic Plague and Da Slyme. This was a door gig - it resulted in little money as many regulars were let in free. However, the prize sought was sweet revenge, not cold cash. It was won.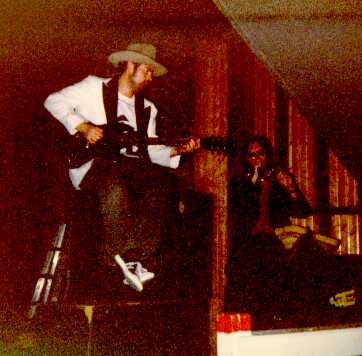 The next day the Brand E management changed their minds again - maybe after all the band was a good draw - so it was on again for the 12 and 13, the 11th being Armistice day and a holiday. It was a good gig. Da Slyme and the Bubonic Plague played well, there were also some great props to take advantage of... A picture exists of Roscoe a-top the clubs mechanical bull during "Tanya, What's You Doing With That Seal?". However, unfortunately there was nobody there! It remains the only Slyme gig ever that no one attended. Go figure.

Yet another new venture was undertaken on November 17 /82. Wallace, Mike O'Brien and Craig Squires did their first ELECTRIC POETRY READING at the Grad House. Mike read some of his stuff while Wallace and Craig noodled on various synthesisers and sundry devices. This was successful enough to be repeated by Wallace and Mike 3 months later Feb. 16/83 (Craig was away again).
The hastily arranged JD's gig back in November was such a success (unlike it's Brand E counterpart), that Da Slyme and the Plague had no trouble arranging a return engagement on Dec 28 / 82. This in a club which never booked bands! This too was an unqualified success.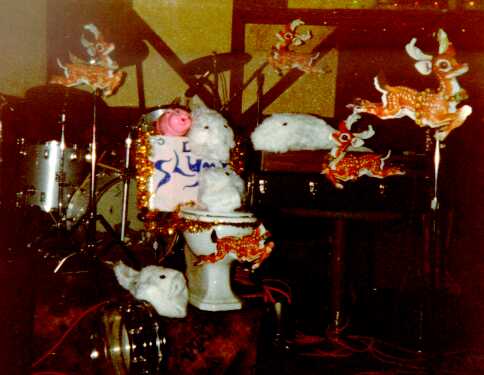 ---