The Wounds Heal; New People; Cautious Gigging
---
Spring passed. Two years previously I had stumbled into a new means of making a few (or was that Few) bucks: As an itinerant sound man. That summer I was asked to work for a local traditional/ rock band called FIGGY DUFF. I travelled with them for 2 months from Newfoundland to Vancouver. This trip gave me an opportunity to see the country and to see a snapshot of the national punk scene - or at least what was happening in Vancouver and Toronto. In T.O. I saw three bands at the Horseshoe - Toronto bands opening for the superb Richard Hell and the Voidoids. I remember little of the Toronto bands except that they had slick bang-on drummers. Richard Hell is a memory, with Captain Beefheart which has a hold on the mind even after 20 years - two best shows I ever saw. In Vancouver, I witnessed the Vancouver Day of Anarchy on Canada Day, in Stanley Park. The Sub-Humans, D.O.A. and a third band on a flat bed truck, at a baseball diamond near the edge of the park. It all was an eye-opening experience. I also added to my record collection along the way. I make no secret of the fact that I am a huge so-called "art -rock" fan. Among the albums I picked up in Vancouver was Gong's LIVE FLOATING ANARCHY 1977. Recommended listening for Punk and Art rockers alike. Myself, Dr. No, and Groon were also influenced in 1975 by Peter Hammill's NADIRS BIG CHANCE ALBUM. Thats all another story.....I returned to Newfoundland in early August. Fall came, and with it the return of Pasquali (Terry). Dead Beat departed for art school in Halifax, leaving his drum kit at the studio - A near disastrous thing for the kit. The fall also brought the departure of the Groon for a work term in Corner Brook - 500 miles away. Sporadic jamming was undertaken - myself and Terry. Terry continuing to invite people into the studio. Regurgitating Da Slyme was not really on the agenda. At this time, in the fall of 78 (late September?) Terry introduced me to an acquaintance of his: Tony Richards. Tony, who we ran into out drinking, was a harmonica player who had in a previous life been a drummer. He was immediately invited along for a jam.
Around about this time, a proposal came our way. Some friends of Stig, brothers named Smythe were having a Halloween party. This would occur in a house on Carpaison Rd. in the center of town. Could Da Slyme be persuaded to reform for a private 'safe' controlled party. Snotty was out - his cuts healed but his courage blunted. Stig became bass player. Pasquali became drummer again with Kirt on guitar. The Pig too was skeptical - my memory does not include his presence. Who would sing the words? Pasquali would sing some and a gent named Roscoe Santiago, the rest. This Roscoe would also drum if Pasquali was called to the front. Roscoe was of course Tony. Harmonica was also included. Roscoe would emerge in the coming months as the front man and one of Da Slyme's most fervent promoters.
A set was quickly concocted. I remember, we played down next to the furnace. The gig was memorable for one other incident. After the playing came the drinking and carousing. At one point (witnessed by myself and one or two others) a bit of tom-foolery in the hallway of this middle class home laid the foundation for what would become a staple of subsequent slyme shows - that being Devils Out - the salvation of a SINNER. Roscoe pretending to be a tv preacher 'saved' Pasquali with a long rant and wallop to the forehead. Pasquali, gamely yet drunken, keeled over flat on his back to the amusement of those who witnessed the sctick. This would soon become a song, and the first of a number of thematic pieces in which the general anarchy, buffoonery and party-time mayhem that was sometimes Da Slyme could rise to fever pitch spectacle. Several years later, No Moniker in watching a video of the 'Bagelmania" show would remark: "five hundred years ago we would have been burned at the stake for this".
With this line up yet another private show occurred before the year was out. It is fair to say that none of us had completely recovered from the shock of the first assault on the band back in Februrary. There were exceptions - especially those who had not been there - Pasquali and Roscoe. In the relative safety of a Christmas party for members of a theatre group the third Slyme gig transpired. This was the first show video taped. (A MunRadio member by the name of Allen Henry did a number of such video tapes of early gigs on equipment scrounged around the university). This show also presented one other first. Da Slyme, on this occasion, served as the opening act for St. John's newest musical unit. This was no blues group or cover band, but the debut of THE REACTION, the city's second punk band (mostly covers at the start). Formed by Terry Carter (Pasquali) on drums and Mike Fisher (bass) with Rick Harbin (guitar), the Reaction would last till 1981, travelling as far afield as Toronto.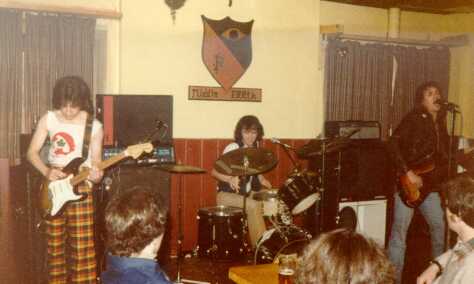 The Raction at the Middle Earth, 1979
As 1978 drew to an end we had, as far as anyone was concerned, gone about the limit as far as the opportunities for public appearances went. True, we'd played to 200 plus people and got written about in the Herald, but sure, how would you get a booking at a nite club not knowing any Bob Seegar songs or any other covers for that matter. It was an alien concept. Easier to write our own One-chord sludge: "this is a one chord punk rock song, we know it's the shits but it doesn't last long". So it looked very much that a few private parties would be about the limit of our scope as "entertainers". This, however changed in the last week of December 1978.

---