The Middle Earth
---

The City of St.John's is a seaport. It's the oldest "European settled" city in North America. It's history goes back over 500 years. Newfoundland is an island. The only known Viking settlement in the new world is here in a place called Lance Aux Medows. There is a long history of drinking here. Stupid drunken, early settlers murdered the existing aboriginal peoples (the Beothuck people) into extinction here. It's called GENOCIDE. The last vestiges of European Piracy can be found here too: the pirate/bar owner.
Back to the seaport. A book by Michael Harris, on a prominent merchant family, called 'Rare Ambition : The Crosbies Of Newfoundland', details the history of bars and drinking establishments in the city. "In 1726, of the 450 families living in Nfld., 65 kept public houses. St.John's, with only 42 permanent houses, had 16 taverns". Two and a half centuries later that number of downtown St. John's taverns and public houses had reached around a Thousand. In this sort of situation there is a lot of competition ...also a steady stream of bars on the verge of bankruptcy at any one time. These guys are always desperate. Grasping at straws.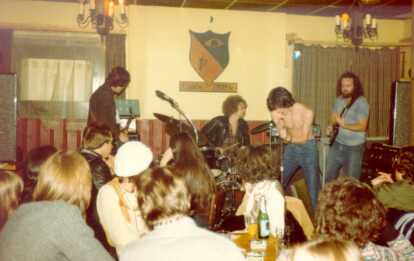 Just such a situation existed in a place called the MIDDLE EARTH PUB when Kirt Sic-O-Via and McBarf K. McBarf strolled into it late December 1978 seeking nothing more than the cool liquid nectar of the gods known as a cold OLD STOCK. It transpired that McBarf knew the owner/guy behind the bar. They were talking and Kirt was casting an eye about the empty room. He mused aloud "jesus Da Slyme could play here". The conversation quickly turned to "well we need something to drag people here", "you actually have a band that WOULD play here?"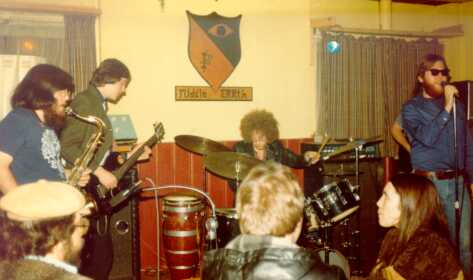 It turned out that we did. Over the next little while an arrangement was made that Da Slyme and The Reaction would indeed play on Dec. 30/78, at the Middle Earth for free beer!. Those posters soon appeared on the poles. The guys in the reaction had some speakers that could be called a P.A. The gig turned out to be a smashing success - the bar was full and in fact ran out of the golden elixers. Both bands were booked for a return engagement, though this time turkey would be talked, as free beer was much too dear a price for the bar.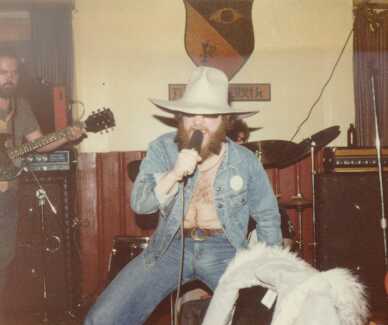 Mention was made in the following week's Herald, and the next week on Jan 12 & 13, the return engagement. Again crowds and line-ups. Da Slyme was not every ones cup of tea though. One incident shines in the early shows... Da Slyme and Reaction would alternate sets. i.e. Slyme first on say Friday and the Reaction first on say Saturday. This one evening had Da Slyme opening at 9:30 to a total of 3 young ladies at the front table. The first song in any evening of Slyme is Piss-eyed Sleazoid, starting "piss-eyed sleazoid, 1 2 3 4....." In a fine bit of slapstick witnessed only by the band and bar staff, all three ladies managed to down their drinks, don their purses and be out the door before the count was through! The crowd would be in before the first set was through, and more gigs occurred at the Middle Earth on Jan 26 & 27 and Feb 3 /79 - Da Slymes first birthday. The line up for these shows was Kirt, Stig, Roscoe, Dead beat back from Halifax, Snotty back on deck, Pig Filthy sometimes back on congas/vocals, No Moniker - when in town, Goohaw Groon when he was in town, and Pasquali on guest vocals.
This of course was a time (of necessity) of renewed writing. Many of Da Slyme's best known songs were written at this time: Newfie Rastaman, Tanya what ya doing with that seal, Kick'in Till I Die, Rat Shop Blues and more. The first side of Da Slyme album contains the songs written for the first gig, the remaining 3 sides contain the songs, mostly written fall 78 and winter 79. In fact the second studio side was recorded in Jan 79 and the live stuff over the winter and spring.
Feb. 9 found Da Slyme with the Reaction, in the Thompson Student Centre Cafeteria at Memorial University - a much larger venue (the Middle Earth held probably 50 - 70 legally and probably a sardine can 120 fishes at a good Slyme show. The TSC Cafe held around 450 at that time and Da Slyme could probably draw 300 plus. This show on Feb. 9 was probably a Munradio benefit as it would likely have been the only way to slip in there. The gig led to an interview and a piece in the Newfoundland Herald.
On March 12 an even bigger benefit was attempted in the TSC Gym upstairs. This time a benefit for a local swilers (sealers) group. The gym held about 800 people and there was a sizable crowd to see Da Slyme, The Reaction, Vic Spencer and Uncle Remus. It was the Reaction's show - their finest hour that nite... later some stooge pulled the fire alarm during Uncle Remus Set. Uncle Remus coincidently was the then current band of the Battacharya brothers, Jonok and Ashok with whom Wallace (Kirt) and Craig Squires (No) had formed Wet Cheese Delirium in 77. By this time Da Slyme was starting for some to seem too much like WORK. Time to fold for a while.