The 20 Year Scam
---
The thing had to have a title. Da Slyme had been conceived as something of a scam, to sell a lot of beer in aid of the Memorial University student radio station CHMR. But it had taken on a life of its own and here we were, two decades later. So how about The 20 Year Scam? Good enough!
Truth be told we went a bit overboard on the jokes (and the jokes within the jokes) on the package. We thought it would be funny to riff on the covers of our 1980 release. So it was that The Blushing Sleazoid Lizards spraypainted their name over Da Slyme's CD cover art. The Lizards, it will be recalled, were the world's only Da Slyme cover band. Their only known performance in Newfoundland had taken place at Uncle Albert's in St. John's in 1983. Their one original tune, Constipated at Kenora High, had become a staple at Da Slyme gigs.
Outside of the jewel case for The 20 Year Scam
---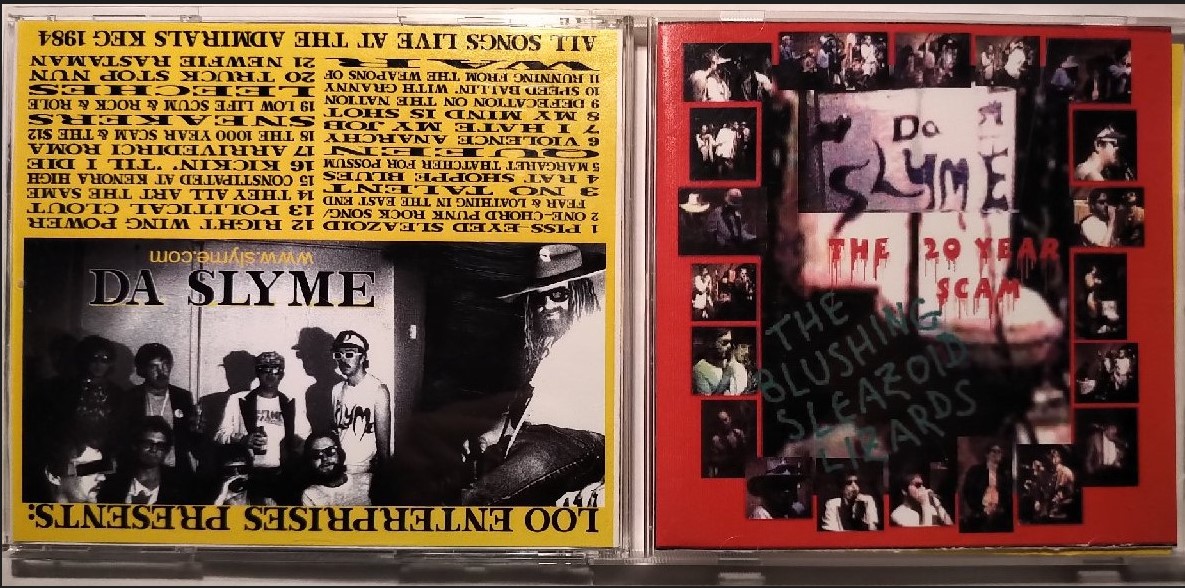 >


---
Inside of the jewel case for The 20 Year Scam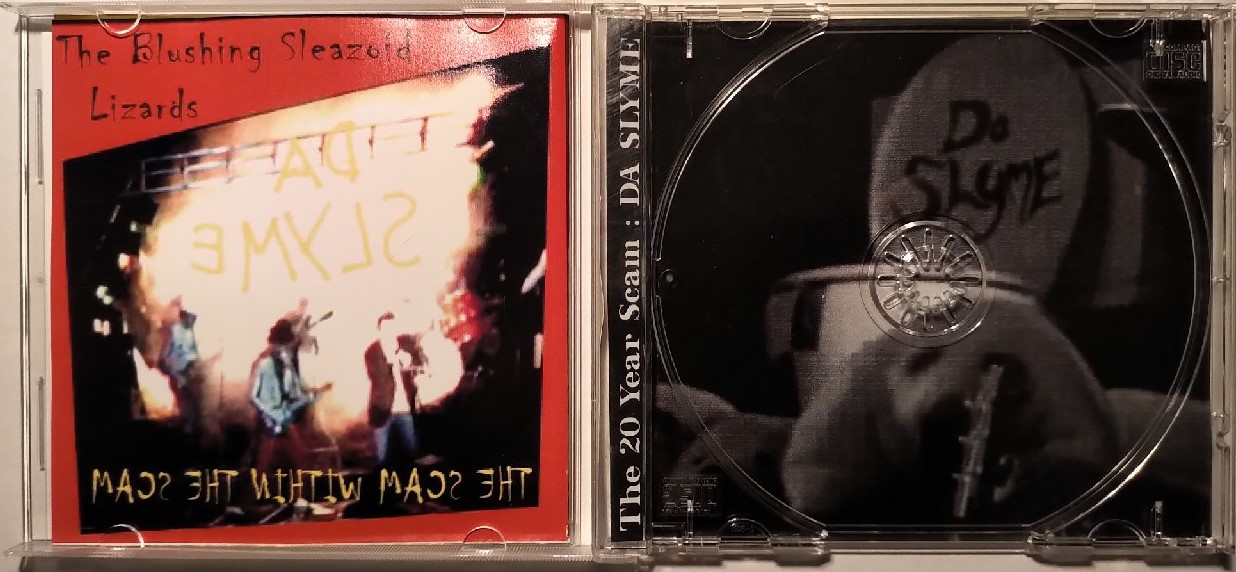 ---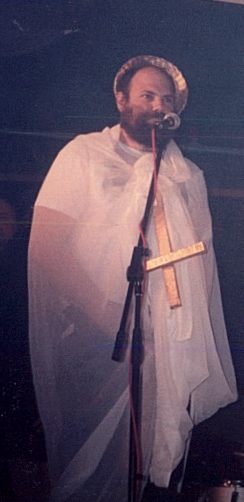 The launch was scheduled for July 3. The rusty poster machine was oiled up and kicked into high gear. The premise was that a prophecy of Nostrildamnus was predicting the End Was Near.
Da Slyme had always had good poster campaigns but this one raised the bar to a new level of sophistication. The ominous tone caused at least one humour-challenged citizen enough anxiety to involve the authorities. Fortunately nothing came if it. There are always people who don't get the joke...
It being the end of the world, we needed a high profile host for the event. Calls were made, and in due course God came on board as MC.
Calio's was packed. It was great to see people we hadn't seen in years. We had expected that. What we didn't expect was the hoard of people who hadn't even been born when this craziness began.
In what was probably a first in Newfoundland, the entire gig was webcast live, thanks to Roger Bill.
The event garnered lots of press. The Telegram devoted the first page of the Arts and Entertainment section in their June 11 edition to a full colour spread by Mark Vaughan Jackson, and published a great review of the 20 Year Scam on June 25. There was a write-up spanning three pages in the July 7 edition of The Newfoundland Herald. There was even an article in the July 17 edition of the Globe and Mail. It was a good article but we weren't sure what to think of the headline: "St. John's punks just won't die".
Since we're on the subject, the "curse" persisted. Calio's closed not long afterwards.
---